It's Fall in Arkansas, and in just a few short weeks, temperatures will dip. There's no better time than NOW to make sure your heating systems & hot water heater are working properly & efficiently! An excellent schedule for taking care of your heat & air system is to change your intake air filter every month and have it checked every year by a licensed heat & air professional.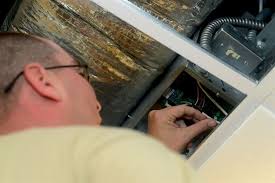 Stay proactive in this area, whether you have gas or electric heat – for your safety & your comfort.
Your Hot Water Heater – Check to be sure there's no water dripping or draining anywhere on the outside of the tank. Drips turn into leaks and can ruin flooring & walls in your home while you're away.
Check your gas hot water heater exhaust vent near the roof. Any signs of damage or clogging? Do you smell gas fumes in the hot water heater closet? Birds can and do build nests in the exhaust vents at any open access point near the top, thereby clogging your gas exhaust pipe. This can be a safety hazard to your family's health & to your home. Call a licensed professional to inspect and repair any items that don't seem to be normal.
Completing these maintenance items now will let you rest better & warmer during the winter months ahead. These are also important items to check off of your "to do" list if you're planning to put you home on the market For Sale soon. Fall & Winter home sales (especially during Thanksgiving & Christmas holidays) often bring sellers more money at closing – market competition is far less and buyers who are looking now Are Serious, Ready, Willing & Able Buyers.
TEAM BRINKLEY, Keller Williams Realty – We're here to help.
Larry A. Brinkley, 501-206-7445 and Carolyn K. Brinkley 501-314-9772